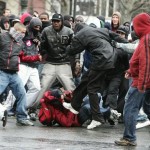 Michigan Assault Lawyer, Prain Law, PLLC is a Criminal Defense firm that specifically concentrates on defending only those accused of Assault charges, many of which are Felony Assault charges. DO NOT PLACE YOUR LIFE IN THE HANDS OF A "GENERAL" CRIMINAL DEFENSE LAWYER. Call the Felony Assault Experts and STAY OUT OF JAIL OR PRISON! Michigan Criminal Defense Lawyer Brian J. Prain has been nationally ranked Top 10 Criminal Defense Attorney Under 40 by the NACDA, Top 40 Under 40 by the National Trial Lawyers , can be found in Super Lawyers and HOUR Detroit Magazines, and was selected to attend the famous Gerry Spence Trial Lawyers College . We believe you cannot find a harder working Criminal Defense Attorney or a more passionate, prepared, and aggressive defense. The definition of Felony Assault in Michigan is an Assault crime punishable by more than 1 year in State Prison. The following bullet points cover the basics of some of the most common Michigan Felony Assault charges. By clicking on the links, you'll be redirected to our other pages and posts with extremely detailed information on each Felony Assault crime and other related topics including sentencing for felony assault.
What Michigan Felony Assault charge are you facing?
If you or someone you know is facing a Michigan Felony Assault charge, it's the "big time," and there is a realistic chance of Jail or Prison. Don't wait - call
The Law Office of Brian J. Prain, PLLC
anytime to set up your no cost, no obligation, confidential and privileged consultation at

(248) 731-4543

.