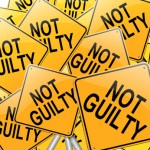 Aggravated Assault charges in Michigan are serious. Michigan's Aggravated Assault law, MCL 750.81a, states that a person convicted of this crime can receive up to 1 year in Jail. What makes Aggravated Assault much more serious (about four times as serious, if you consider the possible Jail time), is a "

serious or aggravated injury

."
CLICK HERE FOR OUR MAIN PAGE ON AGGRAVATED ASSAULT
On the heels of a previous Aggravated Assault NOT GUILTY verdict, on Friday, May 22, 2015, after a 3 day Jury Trial our own Brian J. Prain, the Michigan Assault Lawyer, again got his client acquitted of all charges: NOT GUILTY of Aggravated Assault and NOT GUILTY of the separate charge of Assault and Battery. In this interview, Brian explains how he got the seemingly impossible job done that many lawyers would run from.
RELATED: CLICK HERE FOR OUR MAIN PAGE ON ASSAULT & BATTERY
JB: What County was the Jury Trial in?
BJP:
It was in my home territory of Wayne County, Michigan
.
JB: What was your client accused of doing?
BJP:
My client was accused of smashing the accuser in the face and breaking his nose during a sudden and violent attack. The accuser did suffer a broken nose, but the facts about how it was broken were in dispute. Plus, it didn't help that my client (who, through the process became my friend) was 6'2", 250 lbs., and the accuser was only 5'10," 175 lbs. There were other factors that made the case especially difficult, but I won't go into those right now
.
We put on a defense of lawful self-defense
.
JB: You've mentioned that the charges were both Aggravated Assault and Assault and Battery. Was the Assault and Battery charged as a "lesser included offense"?
BJP:
No. This time, the "A&B" was charged as a completely separate offense. This means the Prosecutor was arguing that the added count of A&B was based on a completely separate act. What this really means is they're trying real hard to get a conviction on something, even if they couldn't get a conviction on the original charge. Luckily, I was actually able to turn this against them and use it to help win the acquittal on both charges
.
JB: Did your client testify?
BJP:
No. No need. We were able to help the Jury see plenty of reasonable doubt without my client having to take the stand in his own defense and then risk having the case fall apart under cross-examination by the Prosecutor. The risk is that once you take the stand, you're putting it all on the line, and if you happen to be really nervous or having an "off" day, the wrong impression could be conveyed, and an innocent person could get convicted. Some people say things like "Only guilty people don't take the stand," but that is absolutely not true
.
JB: Didn't the Prosecutor object at every turn to your cross-examination questions of the witnesses? Didn't that make you look bad and hurt your case?
BJP:
Yes, the Prosecutor objected every two seconds. Under the wrong circumstances, this can ultimately lead to the Jury believing the defense attorney is uneducated, unprofessional, or doesn't know what they're doing. When this starts to happen, you are at risk of losing the case. Thankfully, we had two important factors at play. For one thing, your average Judge will do just about anything to help the Prosecutor, including agreeing with them on every objection just to make the defense look bad. We had a real Judge, and we didn't have to deal with that. Our Judge just made fair rulings for and against both sides. Secondly, during the Jury selection process, right from the very start, I wasted no time reframing these "objections" for the Jury into what they truly are; the Prosecution hiding the truth from them. You can't prove Aggravated Assault while trying to hide the truth at the same time
.
JB: I know your Trial strategies are complex, but is there any one factor that you could say really came into play more than anything else to help ensure that your client walked out of the courtroom a free man?
BJP:
Well, like you were kind of saying, I..um, really don't want to get deeply into my Trial strategies because my clients' future interests are still at stake, and anyone can simply go on here and read whatever I write. But let me just say this: in almost any Trial, you know...I mean I guess extreme examples aside, the lawyer who has built the most rapport and trust with the Jury is going to prevail. There were probably 100 unique strategies and devices that I put to work for my client in this particular Trial, and again I can't go into those here. But above all else, the one thing I really invested in with this Jury was building a connection with them. They need to know they can trust me. If they feel they cannot trust me, or if I were to betray their trust, they will no longer be open to anything I have to say. Then, they will only hear one story, the one the Prosecutor is trying to sell. This is where most unsuccessful Trial lawyers end up losing. Can I say that? I didn't mean to --
JB: No worries! We're just having an open and honest talk here. So it was NOT GUILTY of both charges?
BJP:
Yes, not guilty of Count 1: Aggravated Assault and not guilty of Count 2: Assault and Battery
.
JB: How did your client feel when he heard the verdict?
BJP:
He was overwhelmed with happiness and relief, I would say. He had his life back. His family was even happier. You know, it's really something - my favorite part of my job - to get to know these folks as friends for months and months, and to watch them struggle to live with this giant raincloud hanging over their head. Jail, civil lawsuit, permanent conviction, job loss, stigmatism, the list goes on. And then one day, I get to look at them suddenly and say "Well, it's over." And they say "Thank you!" And we walk out the door together. In this case, it happened to be Memorial Day weekend
.
If you or someone you know is being accused of

Aggravated Assault in Michigan

, the only pathway to freedom starts with a top-notch Criminal Defense Attorney. Brian J. Prain of Prain Law, PLLC has been named one of the Nation's Top One Percent by NADC, ranked as a Top 10 Criminal Defense Attorney Under 40 by NACDA for Michigan, Top 100 Trial Lawyer and Top 40 Trial Lawyer Under 40 by the National Trial Lawyers, has been featured in Hour Detroit Magazine and Super Lawyers Magazine, and more. Call PrainLaw, PLLC anytime at

(248) 731-4543

. Even if PrainLaw cannot handle your case at this time, we will point you in the right direction.