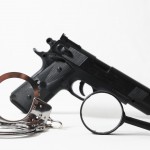 The simple answer is: IT COULD BE! Any Michigan Felonious Assault charge, when it involves a firearm, runs the risk of having Felony Firearm added, at any time, all the way up to and including, the Trial. At any point during the Trial, the Prosecutor can move to amend the information to conform to the proofs, and add a count of "Felony Firearm". At this point the Judge would have to allow it - which is possible - however, this scenario is an unlikely one.
The initial charges made against you, are made by the Prosecutor, not the arresting Officer or Police Department. Whether or not Felony Firearm is part of the charge, at the onset, is a call made by the State or City or Township, whomever assumes the role of Plaintiff in your case. The Plaintiff is NOT your accuser or alleged victim - once a charge has been made, they are considered a witness and the case moves to the Prosecution.
Definition of Felony Firearm: "Carrying or possessing firearm when committing or attempting to commit felony..." (MCL 750.227b)
By definition, Possession does not necessarily mean ownership. A Jury will be instructed that Possession means that either:
1. the person has actual physical control of the thing, such as one would when holding a pen, or
2. the person knows the location of the firearm and has reasonable access to it.
As a rule, in Wayne, Oakland, Macomb, and Washtenaw Counties, an addition of Felony Firearm is not generally exercised unless you have a prior Felony on your record. Even the Prosecutors recognize how harsh this law is.
Under the standard Jury Instruction for Felony Firearm, you do not have to be convicted of the Felonious Assault to be convicted of the Felony Firearm. (Point in fact - during deliberation, a Jury can actually believe they are doing you a favor by compromising their verdict, and unwittingly send you to prison for 2 years.)
Possession of a Firearm at the time of Commission or Attempted Commission of a Felony:
1) The defendant is charged with the separate crime of possessing a firearm at the time (s)he committed (or attempted to commit) a crime.
2) To prove this charge, the prosecutor must prove each of the following elements beyond a reasonable doubt:
3) First, that the defendant committed (or attempted to commit) the crime, which has been defined. It is not necessary, however, that the defendant be convicted of that crime.
4) Second, that at the time the defendant committed (or attempted to commit) that crime (s)he knowingly carried or possessed a firearm.
5) That this charge includes possession of a firearm during either a completed crime or an attempted crime. An attempt has two (2) elements:
* First, that the defendant intended to commit the crime,
* Second, that the defendant must have taken some action toward committing the alleged crime, for failed to complete the crime.
It is not enough to prove that the defendant made preparations for committing the crime. Things like planning the crime or arranging how it will be committed are just preparations; they do not qualify as an attempt. In order to qualify as an attempt, the action must go beyond mere preparation, to the point where the crime would have been completed if it had not been interrupted by outside circumstances. To qualify as an attempt, the act must clearly and directly be related to the crime the defendant is charged with attempting and not some other objective.
6) It does not matter whether or not the gun was loaded.
7) A firearm includes any weapon from which a dangerous object can be shot or propelled by the use of explosives, gas, or air.
8) A pistol is a firearm.
9) A firearm does not include smooth bore rifles or handguns designed and manufactured exclusively for shooting BB's not exceeding .177 caliber by means of spring, gas, or air.
If convicted of a Felony Firearm, it is a MANDATORY 2 years in State Prison, in addition to any sentence imposed for a Felonious Assault conviction (sentences run consecutively, not concurrent). Standard Sentencing Guidelines do not apply in a Felony Firearm conviction, and a Judge CANNOT reduce the sentence. However, Standard Sentencing Guidelines would still apply to a Felonious Assault conviction.
PRAIN LAW, PLLC is a Criminal Defense practice with extensive experience and knowledge in Michigan Criminal Law, the Michigan Justice System, Michigan Judges, Michigan Prosecutors, and County/City Biases. Choosing the right Attorney will be the most important decision you make for yourself and your family.
There are many attorneys who over-promise and under-deliver. Prain Law will never settle for what is easy, over what is right! Practicing successful Criminal Law is a skill developed over time - through experience, commitment, dedication, and good-old-fashioned hard work!
Call our office for a free consultation (248) 731-4543. There's no time like the present to get your questions answered and partner with someone who can enormously effect the direction your life takes from today, forward.